Abstract
Despite the development of nonfullerene acceptors (NFAs) that have made a breakthrough in the photovoltaic performance, large-scale preparation of NFAs that is prerequisite for commercial application has never been explored. Herein, we designed two dodecacyclic all-fused-ring electron acceptors, F11 and F13, and develop a whole set of synthetic procedures, achieving unprecedented scalable preparation of NFAs in the lab at a 10-g scale notably within one day. The single-crystal structures of F11 reveals the 3D network packing. F11 and F13 display the lowest costs among reported NFAs, even comparable with the classical donor material, P3HT. By matching a medium-bandgap polymer donor, F13 delivers power conversion efficiencies of over 13%, which is an efficiency record for non-INCN acceptors. Benefiting from the intrinsically high stability, OSCs based on F11 and F13 show device stability superior to the typical ITIC- and Y6-based OSCs as evidenced by the tiny burn-in losses. The current work presents a first example for large-scale preparation of low-cost NFAs with good efficiency and high device stability, which is significant for OSC commercialization in near future.
Content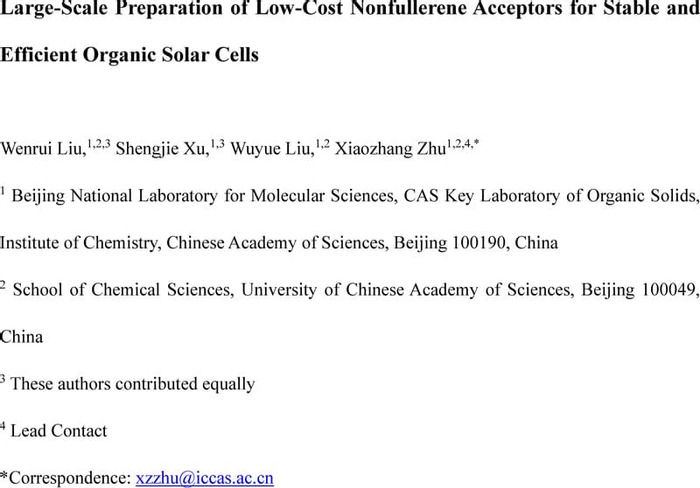 Supplementary material

Supplementary Materials for "Large-Scale Preparation of Low-Cost Nonfullerene Acceptors for Stable and Efficient Organic Solar Cells"