Abstract
A gold(I)-catalyzed 6-endo-dig cyclization of aromatic 1,5-enyne was developed to synthesize 2-(naphthalen-2-yl)aniline. The functional group tolerance of this cyclization was examined systematically and a possible mechanism was proposed. The derivatization of 2-(naphthalen-2-yl)aniline was carried out to facile access to benzo[α]carbazole, benzo[c,h]cinnoline and dibenzo[i]phenanthridine derivatives in a divergent way.
Content
Supplementary material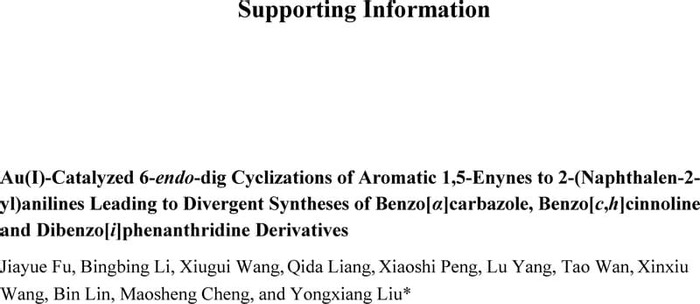 The supporting information for the manuscript entitled "Au(I)-Catalyzed 6-endo-dig Cyclizations of Aromatic 1,5-Enynes to 2-(Naphthalen-2-yl)anilines Leading to Divergent Syntheses of Benzo[α]carbazole, Benzo[c,h]cinnoline and Dibenzo[i]phenanthridine Derivatives"