Abstract
The racemic total synthesis of nitrabirine (5) together with its previously undescribed epimer 2-epi nitrabirine (5') is accomplished via a six-step route based on a biomimetic late-stage heterocyclization. This allowed the assignment of the relative configuration of nitrabirine by the lanthanide-induced shifts (LIS) experiment, later on confirmed by X-ray diffrac-tion of obtained single crystals. Furthermore, oxidation studies demonstrated that the direct N-oxidation of nitrabirine does not yield nitrabirine N-oxide as reported earlier. In contrast, the reaction of hydrogen peroxide with nitrabirine (5) yields the salt 24' whereas, under the same conditions, 2-epi nitrabirine (5') surprisingly leads to a beforetime uncharac-terized product 22. Finally, a Fischer-Indole reaction gave access to novel tetracyclic nitrabirine derivatives 26a-d. A comprehensive biological evaluation of nitrabirine (5), 2-epi nitrabirine (5'), and all derivatives synthesized in this study revealed general biofilm dispersal effects against Candida albicans. Moreover, specific compounds showed moderate antibacterial as well as potent cytotoxic activities.
Content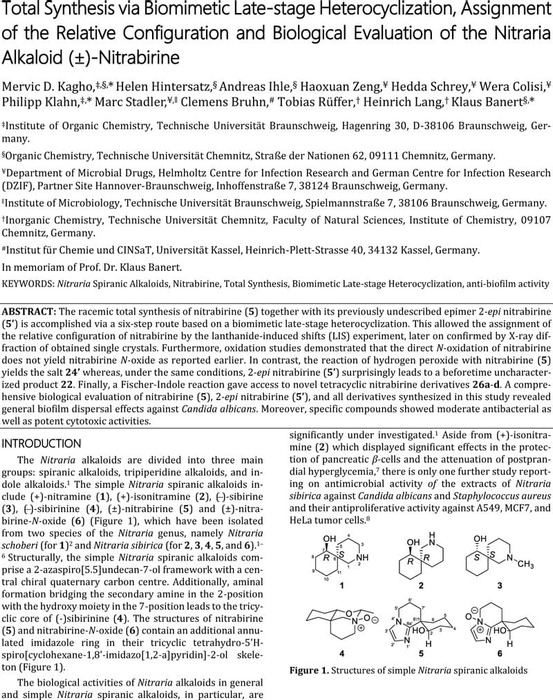 Supplementary material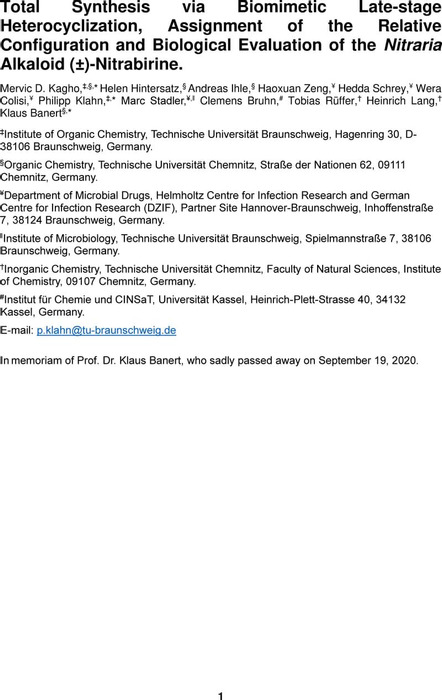 Supporting Information: Total Synthesis via Biomimetic Late-stage Heterocyclization, Assignment of the Relative Configuration and Biological Evaluation of the Nitraria Alkaloid (±)-Nitrabirine.