Abstract
We describe a comprehensive screening campaign of warheads, linked to a hydroxamate chelating anchor, for the modification of Cys165 within the BoNT/A protease.
Engaging thorough enzyme kinetics, we detail a remarkable proximity-driven covalent bond with an epoxide warhead, a weak electrophile; yet, one that possessed superior irreversible inhibition, and pharmacological properties, when compared to intrinsically higher reactive warheads. This directed, selective covalent bond was contingent upon the crucial hydroxamate-Zn2+ chelating interaction as exemplified by examining non-chelating compounds.
We discuss previous approaches using non-target selective cysteine-reactive warheads to modify the BoNT/A protease of which none present any therapeutic potential – our bifunctional strategy allows the use of intrinsically less reactive warheads to intercept the cysteine, which will allow for less off-target modifications of such inhibitors. Moreover, we also broach that this bifunctional approach is not a one-off strategy that we believe can be broadly translated to other metalloproteases that possess non-catalytic, yet, nucleophilic residues within the enzymes catalytic sphere.
Content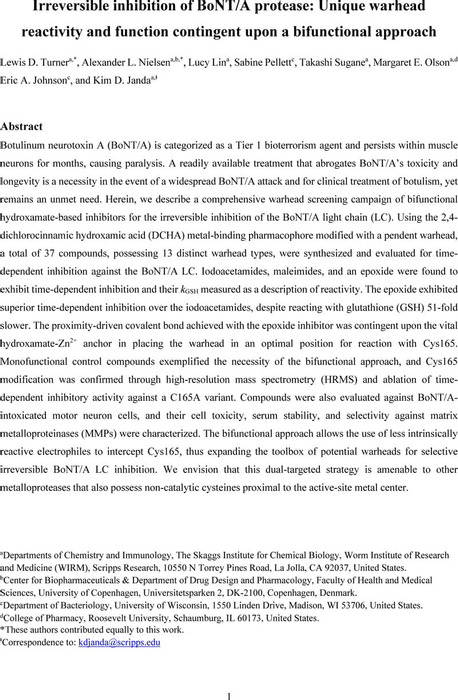 download asset BoNTA_ChemRxiv_Cov.pdf 1 MB [opens in a new tab]
pdf : 1 MB
Supplementary material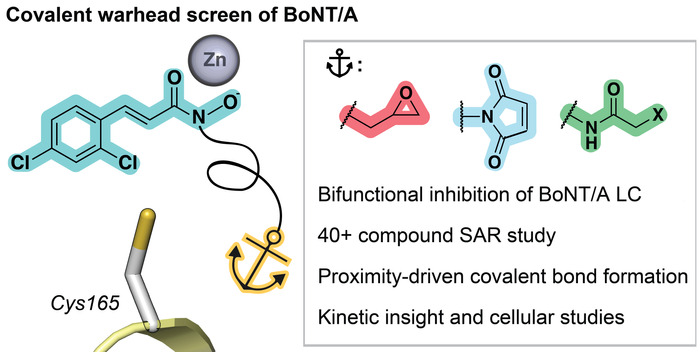 download asset BoNT_A_Cov_ToC.png 0.49 MB [opens in a new tab]
png : 0.49 MB
BoNT A Cov ToC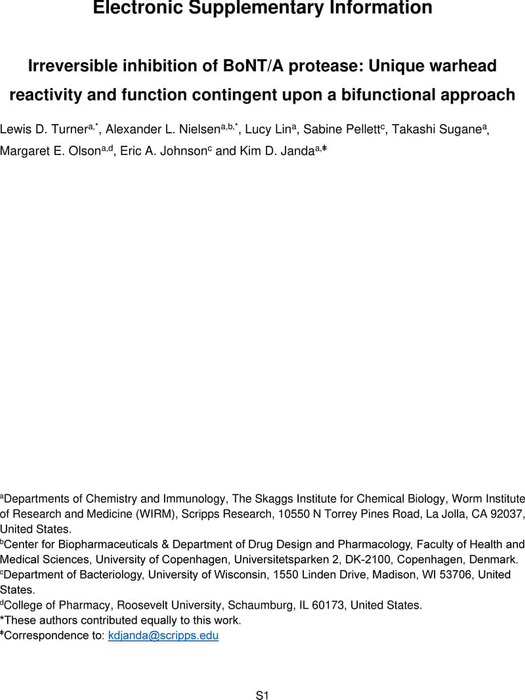 download asset ESI_I.pdf 3 MB [opens in a new tab]
pdf : 3 MB
ESI I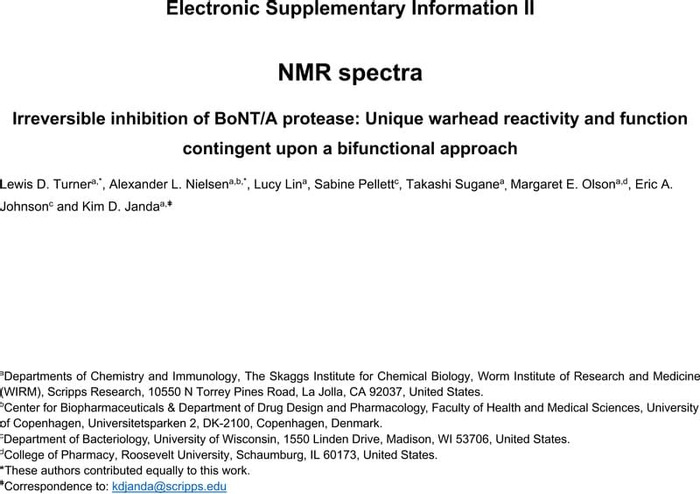 download asset ESI_II.pdf 5 MB [opens in a new tab]
pdf : 5 MB
ESI II
Supplementary weblinks