Abstract
Herein we report the synthesis of novel selenocyanates and assessment of their effect on the oxidative challenge elicited by hydrogen peroxide (H2O2) in cultured mouse neurons. First, α-methylene-β-hydroxy esters were prepared as precursors of allylic bromides. A reaction involving the generated bromides and sodium selenocyanate was conducted to produce the desired selenocyanates (3a-f). We next prepared cultures of neurons from 7-day-old-mice (n = 36). H2O2 (10⁻5 M) was added into the culture flasks as an oxidative stress inducer, alone or combined with one of each designed compounds. PhSe)2 was used as positive control. It was carried out assessment of lipid (thiobarbituric acid reactive species, 4-hydroxy-2'-nonenal, 8-isoprostane), DNA (8-hydroxy-2'-deoxyguanosine) and protein (carbonyl) modification parameters. Finally, catalase and superoxide dismutase activities were also evaluated. Among the compounds, 3b, 3d and 3f exhibited the most pronounced pattern of antioxidant activity, similar to (PhSe)2. These novel aromatic selenocyanates could be promising to be tried in most sophisticated in vitro studies or even at preclinical level.
Content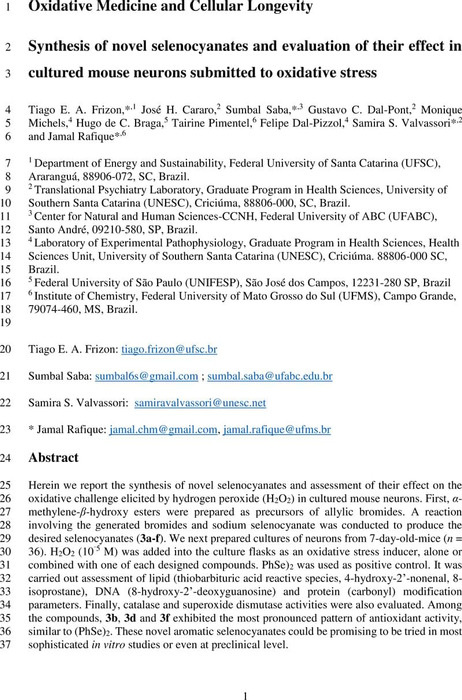 download asset Manuscript OMCL - Selenocyanates.pdf 0.74 MB [opens in a new tab]
pdf : 0.74 MB
Supplementary material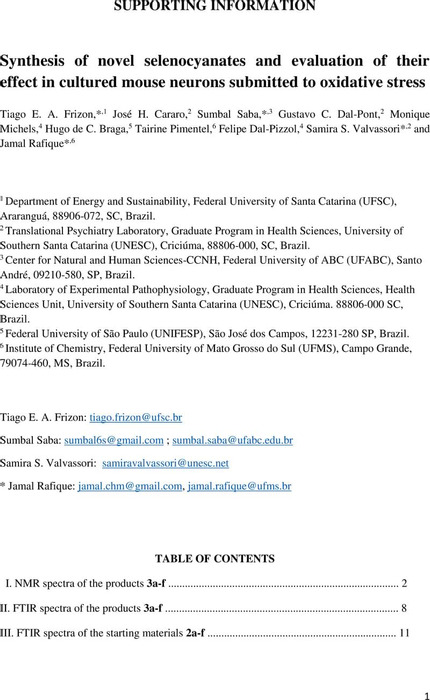 download asset ESI OMCL - Selenocyanates..pdf 1 MB [opens in a new tab]
pdf : 1 MB
ESI OMCL - Selenocyanates.