Working Paper
Authors
Micholas Smith The University of Tennessee, Knoxville & Oak Ridge National Laboratory

,
Abstract
The novel Wuhan coronavirus (SARS-CoV-2) has been sequenced, and the virus shares substantial similarity with SARS-CoV. Here, using a computational model of the spike protein (S-protein) of SARS-CoV-2 interacting with the human ACE2 receptor, we make use of the world's most powerful supercomputer, SUMMIT, to enact an ensemble docking virtual high-throughput screening campaign and identify small-molecules which bind to either the isolated Viral S-protein at its host receptor region or to the S protein-human ACE2 interface. We hypothesize the identified small-molecules may be repurposed to limit viral recognition of host cells and/or disrupt host-virus interactions. A ranked list of compounds is given that can be tested experimentally.

Version notes
Version 2.00, addition of docking results to isolated S-protein at S-protein ACE2 receptor interface region. Updated SI with rankings of top-pose scores provided in excel tables instead of plain-text files.
Content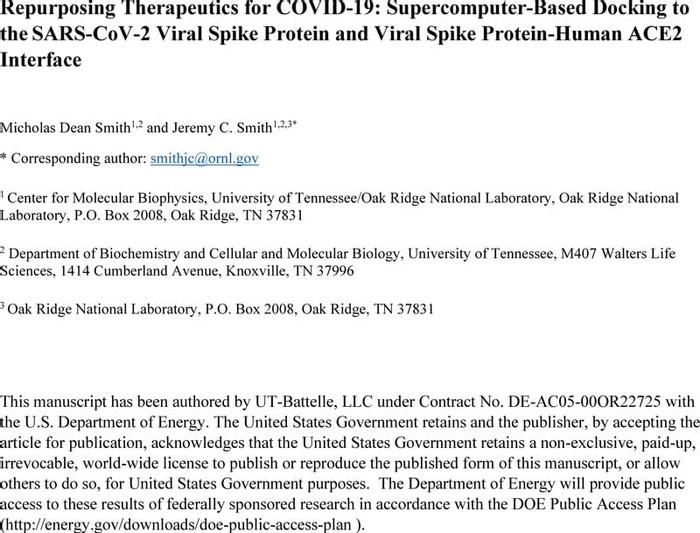 Supplementary material
SI.tar